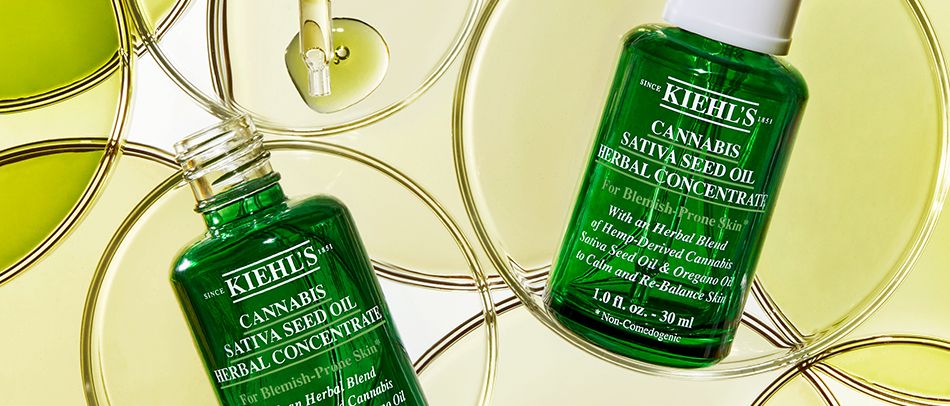 Irritated skin is skin that has been sensitized by the environment and characterized by redness and skin discomfort.
WHAT CAUSES IRRITATED SKIN?
Irritated skin is caused by a weakened or compromised skin barrier, making skin vulnerable to irritants. A healthy skin barrier is able to work more efficiently to retain essential moisture and help protect against external aggressors.
WHAT ARE THE EFFECTS OF IRRITATED SKIN?
The effects of irritated skin are inflammation such as visible redness as well as dullness, and the feeling of tight and uncomfortable skin. This short-term discomfort can ultimately lead to long-term damage including uneven skin texture and tone, loss of radiance, and fine lines.
BENEFITS OF CALENDULA
FOR IRRITATED SKIN
Calendula is an herbaceous plant, commonly used in skincare products because of its mild, soothing properties. Regarded as a traditional Chinese medicine ingredient, Calendula petals and extract are proven to provide a long-lasting, continuous supply of skin soothing compounds directly to skin's surface. Our Calendula-infused formulas are ideal if you are looking to help calm irritated skin, and best for normal, combination, oily and even sensitive skin types. Learn more about the benefits of Calendula for skin.
When caring for irritated skin, we recommend using skincare products that help revitalize and moisturize the skin barrier. Kiehl's skincare is scientifically formulated to help restore and strengthen the skin barrier for healthier-looking skin. Read on to discover some of our favorite tips to help calm and soothe irritated skin:
Tip #1
REFRESH & BALANCE WITH A CALENDULA-INFUSED TONER
Toners help refresh and balance skin, but they are not all the same, so it's important to choose one that addresses your unique skin concerns. For irritated skin, choose toners formulated with Calendula to help neutralize free radicals, which can cause skin damage. Reach for an alcohol-free toner infused with hand-picked Calendula flower petals, Burdock Root Extract, and Allantoin. This effective toner is formulated to gently cleanse and soothe without the use of alcohol or harsh synthetic drying agents. After cleansing and before moisturizing, pat the toner all over your face to gently soothe skin while removing any residual impurities.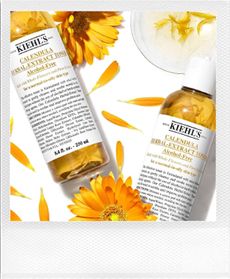 Tip #2
TIP #2: HELP CALM WITH CANNABIS OIL
Cannabis Sativa Seed Oil is an herbaceous oil known for its calming and soothing properties. Irritated skin can benefit from products formulated with cannabis oil to help calm the feeling of stressed skin. We recommend a non-comedogenic lightweight facial oil with a blend of only 13 ingredients including hemp-derived Cannabis Sativa Seed Oil and Green Oregano Oil. This herbal elixir is uniquely formulated with 100% naturally derived* ingredients to help restore moisture and soothe the feeling of irritated skin.
*We consider ingredients to be naturally derived if they retain more than 50% of their molecular structure after being processed from a natural source.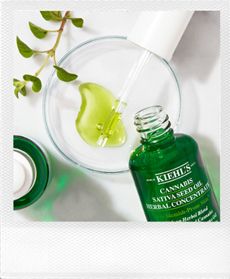 Tip #3
BOOST HYDRATION WITH A WATER CREAM
Water creams are lightweight, gel moisturizers with a unique formulation. Moisturizers like water creams can be formulated to help boost radiance, reduce redness, and improve skin barrier function. Look for formulas that help soften skin and provide long-lasting hydration like our multi-miracle water cream formulated with Calendula. Inspired by our iconic Calendula Toner, this serum-infused cream has our highest concentration of Calendula Flower Extract. As you apply this lightweight water cream, it releases a burst of soothing hydration for instant relief from the feeling of skin discomfort.
DID YOU KNOW? There are hundreds of micronized Calendula petals inside every jar of Calendula Serum-Infused Water Cream. Each petal has 5 discomfort-reducing compounds, formulated to help skin resist early signs of aging.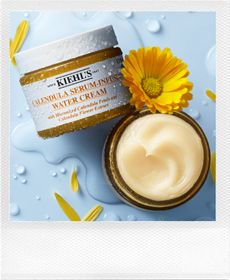 Tip #4
SOOTHE WITH A HYDRATING FACE MASK
Face masks boost skincare routines because they effectively target skin concerns. To hydrate and refresh skin prone to irritation, we recommend using a nature-inspired mask infused with Calendula. Try our hydrating and soothing face mask suitable for all skin types. This lightweight gel mask, formulated with hand-picked Calendula flower petals and Aloe Vera, bursts into a refreshing surge of cooling hydration upon application to instantly achieve hydrated and soothed skin. With continued use, skin is revitalized for a healthy-looking complexion.
For an added soothing effect, layer our Calendula toner followed by Cannabis Oil before applying the Calendula mask.
KIEHL'S TIP: Refrigerate your Calendula & Aloe Soothing Hydrating Mask for five minutes before application.
KIEHL'S BONUS TIP: If you need help finding other effective products for irritated skin, schedule a complimentary healthy skin consultation at your neighborhood Kiehl's store and a Kiehl's Skincare Expert can help!