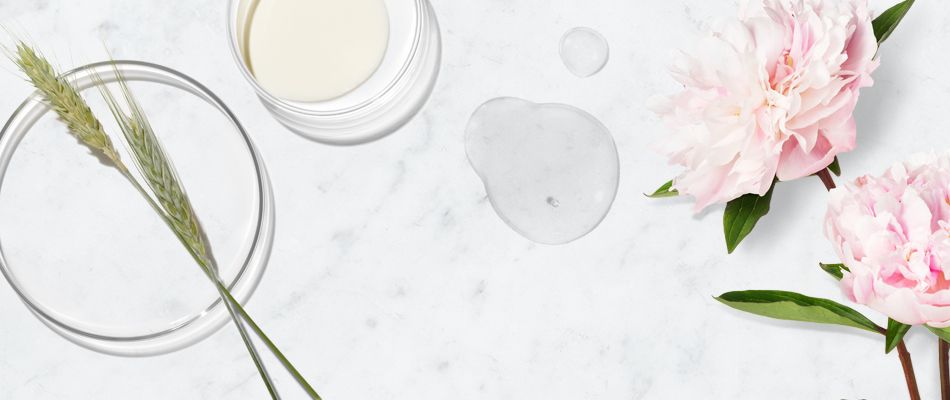 Between the signs of skin isolated incidents of redness, dryness, and feelings of discomfort, we understand that caring for sensitive skin can be irritating. Fact is, 62% of women worldwide report they have skin that is sensitive, reactive, irritable, or intolerant. Finding the right solution starts with understanding the unique needs of your individual skin concern. Whether you want to help calm the feelings of stressed skin or find products that are calmative, Kiehl's has a tip best suited for sensitive skin.
Sensitive skin is often defined as skin that has an impaired skin barrier function, or outwards signs of redness, dryness, and skin discomfort, but building an effective skincare routine with careful consideration can help. If you have skin prone to sensitivity, look for skincare formulas that are designed to help soothe and strengthen the skin's barrier.
We are committed to formulating skincare products suitable for sensitive skin. Our formulas are carefully developed with select ingredients known to be efficacious yet gentle, and we test our portfolio on panels of 50% sensitive skin. Based on factors that can contribute to sensitive skin, our skincare experts have curated tips ideal for those with sensitive or compromised skin.
Tip #1
Choose Products with Ingredients for Sensitive Skin
When building a sensitive skin care routine, it's important to look for products formulated with ingredients that are specific to the needs of sensitive skin types and avoid ingredients that may trigger irritation reaction.
At Kiehl's, natural ingredients have formed the basis for our formulas for more than 165 years, and we have always formulated our preparations with the needs of sensitive skin in mind. We carefully select ingredients for our sensitive skincare products that are known for their soothing properties such as Centella Asiatica. Centella Asiatica is an ancient medicinal plant primarily found in tropical and subtropical areas in Asia and southern Africa. The Centella Asiatica plant has been used as a medicinal herb for thousands of years and is one of the reported "miracle elixirs of life" in China. You can find the ingredient in our Dermatologist Solutions™ Centella Sensitive Facial Cleanser and Centella Cica-Cream, which are soothing and provide skin barrier reinforcement action.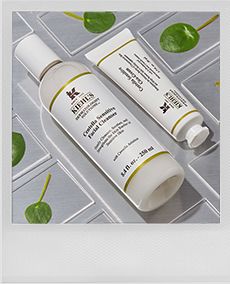 Tip #2
Use a Moisturizer for Sensitive Skin
An effective moisturizer for sensitive skin helps hydrate, calm skin, and maintain moisture in the skin barrier leading to healthier looking skin.
Using a daily face moisturizer for sensitive skin is one of the most important steps in a sensitive skin routine. Look for moisturizers that soothe and absorb easily without excess rubbing. Moisturizers called cica-creams is a great choice because they are formulated with Centella Asiatica.
We recommend a hypoallergenic cica-cream for sensitive skin. This calming formula helps relieve skin that is dry, sensitive or otherwise compromised and is infused with sustainably-sourced Madecassoside, derived from Centella Asiatica, known to help repair the skin's barrier with intense moisture. With a rich texture, this non-comedogenic cica-cream absorbs easily into skin without excess rubbing and is gentle enough to use on the delicate eye area.
KIEHL'S EXPERT TIP: "Use products specifically formulated for sensitive skin and avoid ingredients that are known to be skin irritants or potential allergens." – Dr. Megan O'Brien, Kiehl's Consulting Dermatologist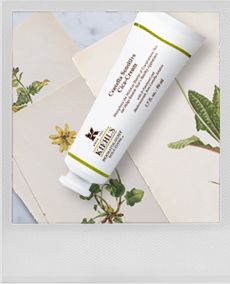 Tip #3
Reach for a Mild Cleanser
Our skincare experts advise those with sensitive skin to avoid harsh cleansers and soaps.
When choosing a face wash for sensitive skin, it's important to look for gentle formulas that cleanse while soothing and strengthening the skin barrier. Cleanse away impurities while soothing skin with a mild facial cleanser for sensitive skin formulated with Centella Asiatica. The sourcing, extraction, and purification processes for the specific Centella Asiatica Extract utilized in this cleanser ensures a consistent proportion of three active components within Centella: Asiaticoside, Asiatic acid, & Madecassic Acid. It gently cleanses skin without stripping essential moisture and removes impurities without causing discomfort. Plus, it hydrates and strengthens the skin barrier and provides a conditioning skin feel appropriate for those with sensitive or sensitized skin.
KIEHL'S TIP: Centella Sensitive Facial Cleanser is a rinse-optional lotion formula and can be removed by either rinsing or wiping off.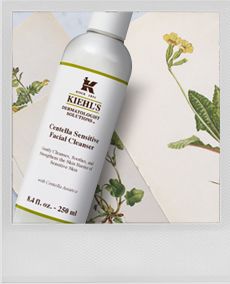 Tip #4
Help Calm Skin with a Facial Oil
Boost your sensitive skin care routine with a calming facial oil!
All facial oils provide hydration and help restore the look and feel of skin, but a calmative facial oil is one uniquely formulated for sensitive skin types.
To calm the feeling of sensitive skin, try a lightweight calmative oil that helps soothe skin. Cannabis Sativa Seed Oil Herbal Concentrate, ideal for sensitive skin, helps with skin discomfort while balancing hydration. It's formulated with an herbal blend of hemp-derived oils, including Cannabis Sativa Seed Oil, rich in fatty acids and Green Oregano Oil. With continued use, Cannabis Sativa Seed Oil Herbal Concentrate helps improve the appearance of skin, leaving it feeling calm and re-balanced.
Build a sensitive skin care routine with products formulated with ingredients known to help calm and soothe sensitive skin.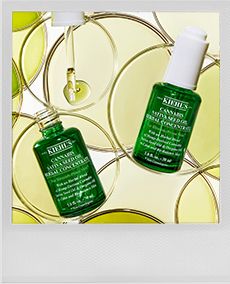 Tip #5
Gently Cleanse from Head-to-Toe
Caring for sensitive skin on your body is just as important as caring for your face!
Finding a body wash designed with the needs of sensitive skin in mind is key to avoiding skin feeling tight, taught, or stripped of essential oils after cleansing. When choosing a body wash for sensitive skin, it's important to avoid harsh, drying soaps and instead choose gentle formulas that are effective but won't irritate skin. We recommend a gentle body wash that provides a soothing, cleansing effect while being mild enough for sensitive skin. It's formula, with sustainably-sourced Aloe Vera, is known to hydrate, soothe and moisturize skin and is made for all skin types, including sensitive skin and dermatologist-tested for tolerance.
KIEHL'S BONUS TIP: If you need help finding the most effective sensitive skin products schedule a complimentary Healthy Skin Consultation at your neighborhood Kiehl's store, and a Kiehl's Skincare Expert can help!