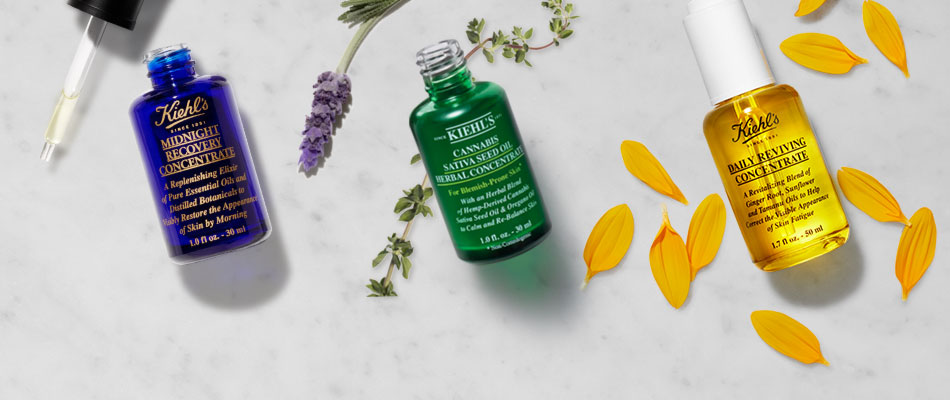 Our Best Oils For Your Skin
There once was a time where people assumed using oils on your skin was to be avoided at all costs, especially for those with oily or acneic skin. Adding oils, it was said, would only result in clogged pores, breakouts, and greasy skin.
As people have come to understand oils better, they've learned that not all of the slick stuff is bad. In fact, some of it can actually work wonders on your skin to help balance out your natural-oil levels.
They can also add hydration, soothe problem skin, and so much more. So, what are these skin-compatible oils that can help with improving the look of your complexion? Keep reading for the best ones and the Kiehl's products to incorporate into your routine.
Olive Oil
The olive fruit is rich in a lipid-derived oil called squalane. One of our favorite ingredients here at Kiehl's, squalane mimics your body's natural sebum, meaning it can work on helping to replenish your skin barrier and hydrating without causing your skin to get too oily. It absorbs easily and is well-tolerated by all skin types.
Find it in: Ultra Facial Moisturizer
Sunflower Oil
While not necessarily a common oil found in skincare, Sunflower Oil has tons of benefits for your complexion. It's is a known skin barrier strengthener that also helps smooth and soften your complexion without feeling heavy or slippery on skin.
Find it in: Daily Reviving Concentrate
Lavender Essential Oil
This popular ingredient is steam distilled, meaning we expose the plant to steam to release a concentrated liquid that contains the "essence" of the plant and its fragrance. Known for its soothing properties, Lavender is also an adaptogen — an herb or plant with the ability to resist stress. It has been used for centuries on skin to help balance and calm skin.
Find it in: Midnight Recovery Concentrate
Don't be scared of oils — they might just be the secret to unlocking your best skin yet.