A good night's sleep not only makes you feel great but also has numerous benefits for your body, including your skin. While you sleep, your skin works hard to repair itself from daytime damage and neutralize free radicals. However, it's important to note that you can't simply rely on sleep alone to wake up with clear, smooth, and glowing skin. It requires some effort on your part.
During sleep, sebum production decreases, which can lead to moisture loss overnight. Without a proper night time skincare routine, your skin may become dry and flaky by morning. To address this, using skincare products specifically designed for night time, like the ones in our Midnight Recovery line, can help enhance your skin's natural night time processes and keep it looking its best.
HOW LACK OF SLEEP IMPACTS OUR SKIN
Insufficient sleep can have detrimental effects on the health and appearance of your skin. When you consistently get less than seven hours of sleep, it can lead to imbalanced skin and a diminished natural glow. Some of the common negative impacts of inadequate sleep on the skin include:
Inflammation
Breakouts
Dryness
Premature Aging
Decreased Skin Renewal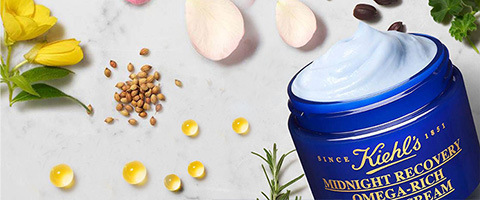 We are excited to introduce the latest addition to our Midnight Recovery line: Midnight Recovery Omega-Rich Cloud Cream. This innovative product is formulated with 98.6% naturally-derived* ingredients, harnessing the effectiveness of the botanical blend found in our beloved Midnight Recovery Concentrate. In addition, it incorporates potent botanical oils that are rich in Omega-6 and Omega-3.
WHAT DOES IT DO?
Our 98.6% naturally-derived* night cream is packed with Omega-rich botanicals to strengthen skin lipids for more youthful skin by morning, delivered in a creamy, cloud-light texture
Locks in moisture all night for visible plumpness
Visibly restores skin overnight for more supple, radiant skin by morning
Reduces fine lines
Smooths skin texture
HOW TO USE?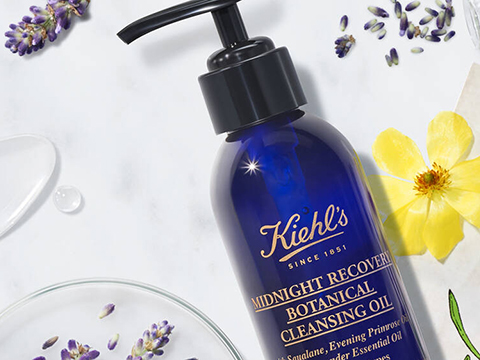 Step 1:
Cleanse With Midnight Recovery Botanical Cleansing Oil.
Cleansing your face before bedtime holds great importance for a couple of reasons. Firstly, it helps eliminate the accumulation of dirt and grime that may have settled on your skin throughout the day. Secondly, a thorough cleanse prepares your skin for the subsequent products in your skincare routine, allowing them to work effectively For your nighttime skincare routine, we recommend incorporating a gentle oil-based cleanser such as our Midnight Recovery Botanical Cleansing Oil. This nourishing formula gently dissolves impurities, including waterproof makeup, without stripping your skin of essential moisture. To use, dispense three to four pumps of the cleansing oil onto your palms and massage it onto your dry face. Then, add lukewarm water. The oil will emulsify into a lightweight, silky cleansing milk that rinses off effortlessly, leaving your skin feeling supple, smooth, and replenished. Gently pat your skin dry with a clean and soft towel, and you're ready to proceed to the next step in your skincare routine.
Step 2:
Nourish Your Eye Area With Midnight Recovery Eye
Help keep the delicate area hydrated by smoothing on Midnight Recovery Eye, which contains butcher's broom extract and sunflower seed oil in addition to the collection's signature lavender oil and evening primrose oil. The anti-aging formula helps smooth and restore the eye area, diminishing the appearance of puffiness and dark under-eye circles with consistent use. It's suitable for all skin types and can be used nightly for fresher, younger-looking eyes come sunrise. Simply tap a small amount of the formula around your entire eye area (lids included). Avoid rubbing or pulling at the skin to prevent unnecessary stress in the area.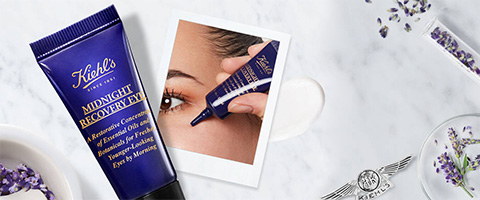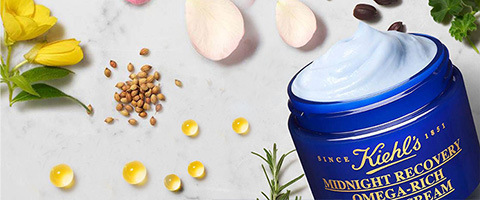 Step 3:
Hydrate Your Skin With Midnight Recovery Omega-Rich Cloud Cream
Replenish your skin's moisture with the nourishing Midnight Recovery Omega-Rich Cloud Cream. Take a small amount, approximately the size of a dime to a nickel, of the luxurious and lightweight formula and gently massage it onto your face and neck, using upward strokes. For optimal hydration, consider applying the moisturizer when your skin is slightly damp to effectively seal in moisture, leaving your skin feeling refreshed and revitalized.
Step 4:
Take a few drops of this non-comedogenic, lightweight oil onto your clean palms and gently press it onto your face, allowing it to deeply moisturize and nourish your skin. To elevate your nighttime routine, consider using a skincare tool such as a jade roller to indulge in a relaxing facial massage, bringing an extra touch of indulgence to the end of your day.