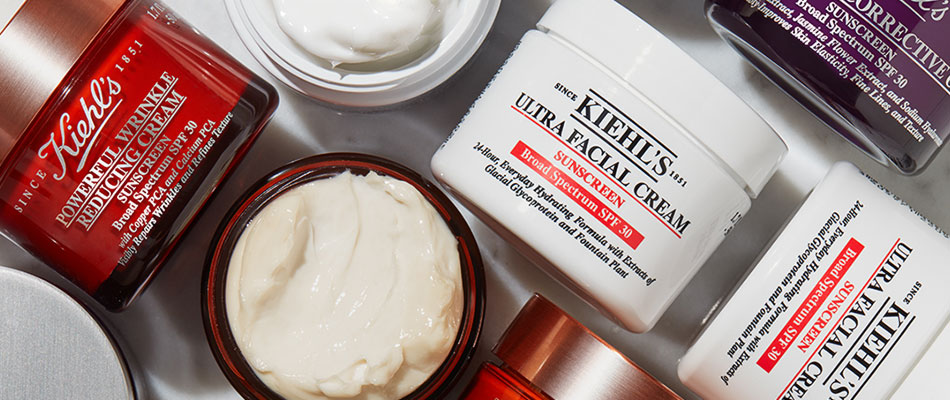 SPF Moisturizers You'll Actually Wear
One thing we know all too well at Kiehl's is that everyone's skin situation is different. Yes, skin type plays a major role in finding the right products, but it also comes down to your lifestyle and how you care for your skin. Nowhere is that more evident than with facial moisturizers with SPF.
We know everyone should be wearing sunscreen , but not everyone needs the same type of protection. Some formulas and textures work well for a percentage of people, but others might need a different formulation for their skin scenarios. It comes down to your skin type, tone, and outdoor activities. facial moisturizers with SPF are a great option because they provide both protection from UV rays and your necessary dose of daily hydration.
With that in mind, we put together our guide of daily sun protection picks. Keep reading to find your perfect SPF match.
The SPF Avoider
The curse of those with oily skin is that most SPF products can either clog pores or make their skin look and feel greasy. That can make them hesitant to wear sunscreen as they don't want to risk the ensuing breakouts. We get the struggle, but not wearing daily protection is a one-way ticket to sun damage. The good thing about SPF moisturizers for oily skin is that they tend to be more lightweight and non-comedogenic (i.e. they won't clog pores). Some of them even help mattify the skin.
The Kiehl's Super Fluid UV Mineral Defense Broad Spectrum SPF 50+ does all that and more. It's a physical sunscreen that helps block UVA and UVB rays without irritating sensitive skin or making your complexion oilier. It has a fast-absorbing texture that absorbs quickly, minimizing any greasy residue. It's also lightly tinted to help enhance your natural skin tone, uses Vitamin E to deliver a healthy dose of moisture and antioxidant protection, plus leaves behind a matte finish that reduces the look and feel of excess oil.
The City Dweller
City living is hard on your skin — free radicals from pollution can attack your cells and cause oxidative damage that leads to dryness , fine lines , and clogged pores . Protect yourself from the sun and urban air aggressors with our best-selling Super Fluid UV Defense SPF 50+. In addition to optimal broad-spectrum UV ray protection, it also has antioxidant Vitamin E and Baicalin, an extract of the Scutellaria Root Extract that provides antioxidant benefits that are important in defending against pollution-borne free radicals.
The Outdoor Adventurer
If you spend lots of time outdoors, you need a heavy duty SPF moisturizer, one that can be easily reapplied and protect your skin from long bouts of sun exposure. Reapplication is key here, as you need to reapply every two hours (or after sweating and getting wet) in order to maintain adequate protection levels.
Whether you're an outdoor runner or someone who works outside, the Kiehl's Activated Sun Protection Water-Light Lotion For Face & Body is a stellar choice. It's a weightless sun lotion that transforms into a water-like texture on the skin. In addition to being refreshing and cooling, it also contains hydrating and antioxidant-rich Vitamin E. Water-resistant for up to 80 minutes and non-comedogenic, it's the perfect protector for those that work hard or workout in the sun.
The Young Professional
Even if you avoid spending long periods of time in the sun, that doesn't mean you can skip the SPF. Sun damage is cumulative, so every time you are out and about, you're building up damage. Think you're safe indoors? Windows (including those in cars) don't protect you from UV rays. Wearing a lightweight SPF hydrator is an easy way to keep your skin protected without actually feeling like you're adding an additional step to your routine.
The Kiehl's Ultra Facial Cream with SPF 30 is a moisturizer first, sunscreen second. It has the same signature ingredient — squalane — as the original Ultra Facial Cream . It helps keep your skin barrier healthy and can lock in hydration and protect your complexion as it softens and moisturizes.
Remember: The best sun protection is the one you actually wear, so do your research to find one that fits your skin needs and your lifestyle. Once you find it, you might even — dare we say it — enjoy wearing your SPF.