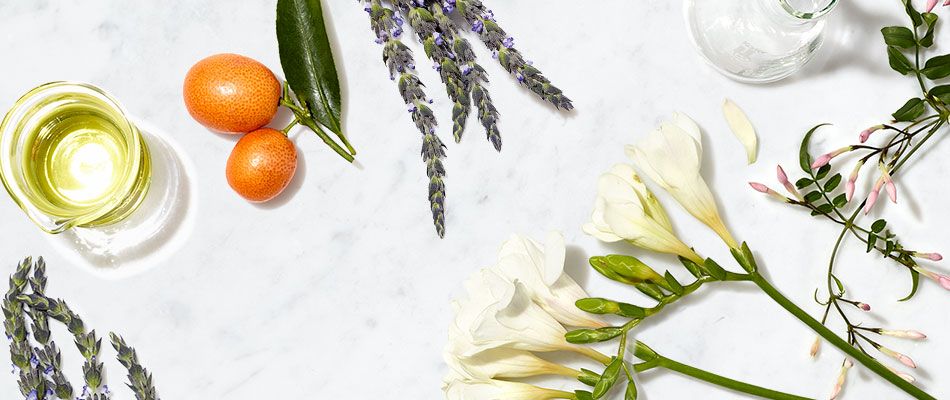 OUR GUIDE TO ESSENTIAL OILS
WHAT IS A BOTANICAL?
A botanical is a plant or part of a plant valued for its scent that serves as the source of essential oils for skincare.
WHAT ARE BOTANICAL OILS?
Botanical oils are oils extracted (usually using a heat press) from the root, stem/bark, leaves, flowers, seeds or fruits of plants that are fatty, dense and non-volatile.
Examples include:
Squalane: A botanical lipid of the highest quality, derived from olives and a signature Kiehl's ingredient found in formulas to help restore skin's natural moisture balance.
Evening Primrose Oil: A botanical oil rich in essential fatty acids that helps maintain hydration and elasticity.
Sunflower Oil: A botanical oil rich in essential fatty acids and used in products to help reduce isolated incidents of visible skin redness and improve skin's smoothness, texture, and hydration.
WHAT IS ESSENTIAL OIL?
Essential oil is a concentrated liquid or plant extract (naturally cultivated and steam-distilled) that retains the natural smell and flavor or essence of their source. Essential oils are commonly used as aromatherapy or within formulations for skincare.
ESSENTIAL OILS & KIEHL'S
Inspired by our apothecary roots, Kiehl's infuses essential oils in many formulations to help replenish nutrients to the skin. Skin greatly benefits from oil-based products because they smooth, lubricate, and are more easily absorbed as opposed to water-based moisturizers. Even skin that does not look or feel rough benefits from this action, as the lipid barrier, found on the surface of the skin, must be in pristine condition to optimize skin's health and appearance. Learn more about essential oils for skin care found in some of our most iconic formulations.
KIEHL'S FUN FACT: At one time, there were 122 unique essences offered to patrons of the original "Kiehl Pharmacy" located at Thirteenth and Third in New York City's Lower East Side community.
WARNING: Our essences are generally recommended for everyone. Please note the following with regard to the usage of pure essences and essence blends and their possible effects on the skin: the susceptibility of persons to pure essences and essence blends varies from individual to individual. Occasionally, susceptible individuals can experience a rash, desensitization or a temporary discoloration of the skin in the areas where the pure concentrated essences have been applied. Sun exposure greatly increases the sensitivity of the skin towards certain essences; therefore, we recommend that the use of essences should be limited to those occasions when sun exposure is minimal.