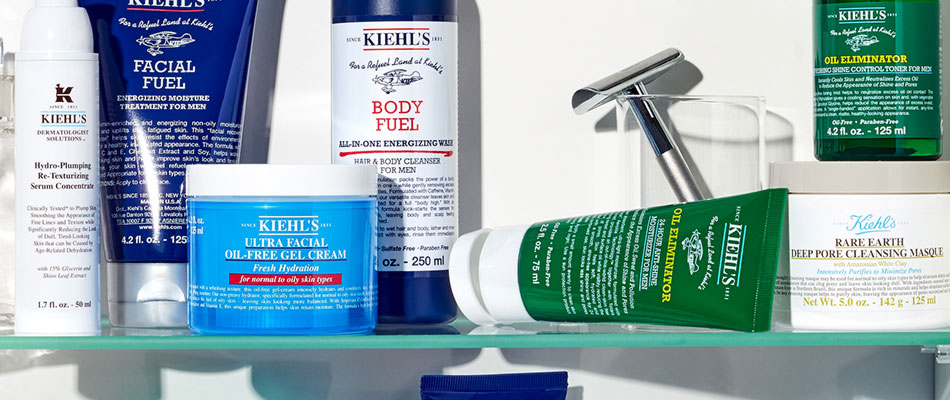 Our Best Moisturizer For Men
For many men, awareness about their skin's health has increased over the last decade or so, making them more attuned to the prevention and maintenance steps they need to follow to keep skin strong and resilient. Cleanser, sunscreen, and moisturizer have (mostly) become staples for skincare-conscious men.
However, understanding of the different types and benefits of moisturizer for men can be difficult. What kind of moisture do you need? What types of ingredients are best? What else can your moisturizer do? Most advice on moisturizers is geared towards women — men have different needs as their skin is structurally and biologically different.
Research has shown that men have a dermis (the layer just beneath the surface of the skin) that is 20% thicker than women. However thicker does not equal stronger — male skin has been shown to be more susceptible to UV damage. They also have more oil, larger pores, and have overall drier skin (despite the increased oil). Not to mention the added stress that shaving puts on the surface of the skin.
In order to help track down the best moisturizer for men — and the specific one you should be using — we've put together this guide of our top men's moisturizers, plus which skin issues they can help to improve the appearance of. Read on to get the full story on skin hydration.
For Serious Sun Protection: Facial Fuel SPF 20
As mentioned above, men have been shown to be more sensitive to sun damage than women, making it especially important for them to use sunscreen. If applying one more product to your routine seems like too much for you, look for a moisturizer that is formulated with an SPF 20 or higher.
Our caffeine , free-radical neutralizing antioxidant Vitamins C & E, plus Chestnut Extract and Soy. The lightweight water gel texture energizes and invigorates skin, providing all-day moisture and sun protection that can also help smooth skin texture and minimize dullness .
For Large Pores: Oil Eliminator 24-Hour Anti-Shine Moisturizer For Men
While large pores can be an issue for both men and women, they tend to be more pronounced for men. large pores are usually the result of dirt, oil, and dead skin cells which build up in the pore and cause it to visibly stretch. To help minimize the appearance of large pores, you need a product designed to keep that debris from accumulating on the skin's surface.
The Oil Eliminator 24-Hour Anti-Shine Moisturizer is formulated specifically for this exact task of keeping skin's surface clean of dirt, sweat and pollution and minimizing visible shine. This product is ideal for men who deal with a surplus production of natural oils. It features a special "space age" Aerolite Technology that, along with Totara Wood Extract to visibly mattify shine and the appearance of large pores. Skin feels soft, hydrated, and comfortable all day long.
For Anti-Aging: Age Defender Gel Moisturizer
Many men might avoid anti-aging products because they either find them too heavy or don't think they need one. Nothing could be farther from the truth — anti-aging treatments are both preventative and restorative, meaning they can help visibly improve the signs of aging that are already present. As for the heavy texture complaint, there are options available that provide powerful anti-aging benefits in lightweight lotions and gels.
Our Age Defender Gel Moisturizer is a prime example: It's enriched with Linseed Extract, an ingredient known for its ability to reduce the appearance of wrinkles and help with skin firming. It comes in a non-greasy gel texture that's smooth, easy to apply, and won't feel sticky or slippery on the skin.
For Extra-Dry Skin: Ultra Facial Cream
While men as a whole are more prone to dryness, there are some that deal with worse cases than others. Those who suffer from this moisture loss need to pick products rich in hydrating ingredients to help protect the skin-barrier.
Our iconic, unisex Ultra Facial Cream is a superior moisturizing treatment formulated with Glacial Glycoprotein and olive-derived squalane . Together, they balance even skin's driest areas with 2.3 times more moisture, revealing skin that looks and feels softer, smoother, and healthy-looking.
KIEHL'S TIP: Be sure to pair your moisturizer with a lightweight, broad-spectrum sunscreen like our Super Fluid Daily UV Defense SPF 50+ to help protect skin from those damaging UV rays.
Moisturizers , while essential for both sexes and every skin type, are not a one-size-fits-all product. In order to ensure you are getting the most from yours, use the above guide to seek out the one that's best for your skin and your lifestyle.