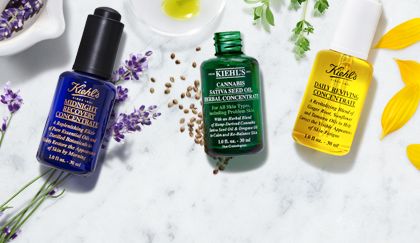 Can You Use Face Oils On Your Oily Skin?
One question our Kiehl's Customer Representatives get all the time is "Are face oils good for oily skin?" That's because there's a lot of contradictory information out there about if face oils clog pores. The reality is that face oils are actually great for balancing oily skin types. You just need to know how to navigate that slippery slope.
To help guide you in finding the right face oil for oily skin, we've put together this guide of face oils for oily skin. Keep reading to learn how they work, what they do, and the Kiehl's face oils that are right for you.
WHAT IS AN OIL?
As the name suggests, a facial oil is a blend of skin-friendly oils that work as an emollient moisturizer, sealing moisture into the skin as it helps address the appearance of skin.
WHY ARE THEY GOOD FOR OILY SKIN?
It's understandable that there's some confusion as to if face oils are good for oily skin. After all, if you already have oily skin, why would you want to add more oil to it? But, that's not how skin works. Just because your skin produces a lot of oil, doesn't mean it's moisturized. And, many people with oily skin use products that can strip away those oils. This in turn actually causes your skin to create even more oil, disrupting its natural balance and leading to clogged pores and that extra greasy feeling. Face oils help keep moisture in the skin, which in turn keeps your skin from over-producing oil to try and compensate for over-drying the skin.
WILL FACE OILS CLOG MY PORES?
That said, not all oils are good for oily skin. Some, like coconut oil, can be too heavy for oil-prone complexions. Instead, you need to look for those that are non-comedogenic and/or non-acnegenic. In non-dermatologist terms, non-comedogenic means it won't clog pores. A comedone is skincare speak for blackheads or whiteheads. Blackheads are comedones that are open to the skin's surface (the exposure to oxygen darkens the top of the comedone, hence the name), while whiteheads are closed comedones that stay beneath the skin's surface. Non-comedogenic, then, means no comedones.
Meanwhile, non-acnegenic means a product is usually free of fragrances and any ingredients that could trigger acne or irritation. These two terms usually (but not always) go hand in hand on skincare labels, although non-acnegenic is not as common of a term.
WHICH KIEHL'S FACE OILS ARE FOR OILY SKIN?
Our curated selection of botanical skin oils offers an oil for almost every routine. For the morning, there's the Daily Reviving Concentrate , a revitalizing blend of Ginger Root, Sunflower, and Tamanu Oils to help correct the visible appearance of skin fatigue. Our bestselling Midnight Recovery Concentrate is a potent bedtime elixir that uses pure essential oils of Evening Primrose and Lavender, plus distilled botanicals to visibly restore the appearance of skin by morning. Finally, the Cannabis Sativa Seed Oil Concentrate is the perfect companion for problem skin thanks to its calming blend of Cannabis Sativa Seed Oil and Oregano Oil that can soothe and re-balance blemish-prone skin.
Don't skip the face oils if you have oily skin — add one of our non-comedogenic concentrates to your routine and see how beneficial they can be, even for your oily complexion.