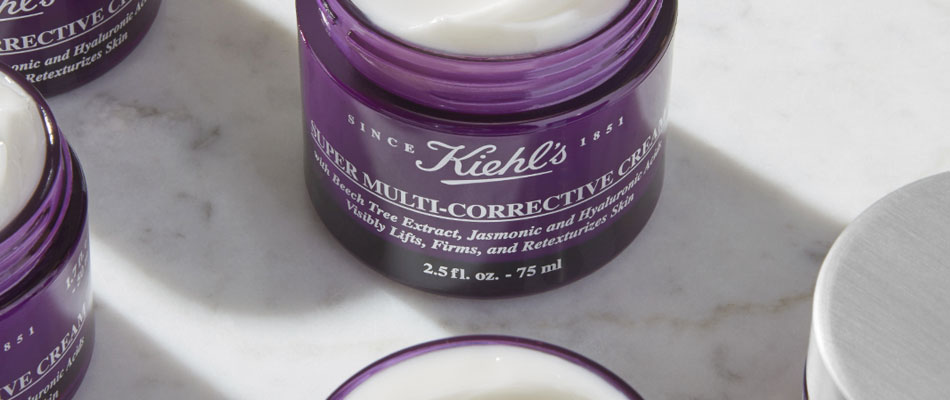 The Best Anti-Wrinkle Creams For Your Skin
If you've ever gone shopping for an anti-wrinkle cream, chances are good you've come across the term collagen. That's because it's one of the major factors in the formation of fine lines and wrinkles. For the uninitiated, collagen is one of the two main proteins (the other being elastin) that make up the structure of the skin.
Collagen is what makes sure your skin is supported and stays firm. When your skin is producing optimal levels of it, your complexion is strong, smooth, and supple. Unfortunately, as you get older, those production levels start to drop and existing collagen degrades. Depending on how much damage your skin is put through, that slowdown can happen at a wide variety of ages. Regardless of when it happens, the results are the same: Skin loses its structure, begins to sag, and no longer bounces back. Meaning all that repetitive squinting, laughing, and brow furrowing you've done over the years starts to become more permanent, i.e. deep wrinkles.
And, while collagen loss is a natural part of skin aging, that doesn't mean there isn't anything you can do to both help delay early formation of fine lines and minimize the appearance of existing ones. That's where anti-wrinkle creams come in.
While their goal might be the same, not all anti-wrinkle creams are alike. Different decades in life require different ingredients, textures, and formulations. With that in mind, check out our list of the best anti-wrinkle creams for every age.
One more thing to remember about wrinkles: The sun is the number one cause of premature aging, so do your skin a favor and wear SPF every day, no matter if you already have fine lines or not.
IN YOUR 20's
You might not see wrinkles yet, but that doesn't mean the factors that cause them haven't started — the damage that is happening now is going to show up on your face over the next 30 years, so the better you treat your skin, the better it will look down the road. Because of that, your goal is prevention and maintaining the hydration and resilience your skin naturally has at this age.
Your Cream: Calendula Serum-Infused Water Cream
When hydration is your main concern, this lightweight gel hydrator delivers a burst of watery freshness alongside serious soothing benefits. It's also infused with our potent Calendula Serum, made up of Calendula Flower Extract and hundreds of micronized Calendula Petals to help skin resist uneven texture, fine lines, and dullness as it soothes skin discomfort.
IN YOUR 30's
Your collagen production and cell turnover rates are starting to slow down, meaning you're most likely dealing with a mix of dry skin and dullness, and as you get in your mid-to-late 30s you'll be able to see the ghost of fine lines around your eyes and mouth — think pre-wrinkles. Your goal in this decade is to keep your skin hydrated, as dry skin can make it easier for fine lines to form.
Your Cream: Pure Vitality Skin Renewing Cream
This fortifying and revitalizing moisturizer uses 99.6 percent naturally derived ingredients. Manuka Honey from New Zealand helps strengthen skin's barrier function and boost skin's recovery process, while Korean Red Ginseng Root helps boost radiance and vitality. With a unique honey-like texture, it helps visibly renew skin for a smoother texture and enhanced radiance.
IN YOUR 40's, 50's, & Beyond
Your past sun damage is catching up to you and your collagen is breaking down faster than it can be replaced, leading to a loss of elasticity and more noticeable wrinkles. Hormonal changes are also contributing to slowing down your cell turnover rate, so you'll notice an overall dullness and uneven texture. Add to that drier skin, courtesy of a decrease of oil production and your skin is in need of something that can handle a multitude of age-related issues in one product. As you pass your 50s, collagen loss is happening more rapidly and skin is getting thinner. Sagging jawlines, hyperpigmentation, expression lines, and wrinkles are your big issues. Your focus should be on repairing the damage that's been done, both as the result of the natural progression of getting older and from the damage of your youthful years.
Your Cream: Super Multi-Corrective Cream
As the name implies, this extra-strength anti-ager is a total skin star at reducing the appearance of wrinkles. It's been clinically tested to visibly minimize the look of fine lines and wrinkles by up to 32 percent after four weeks. It has Jasmonic Acid and Beech Tree Extract to fortify the skin barrier, refining texture, improving elasticity, and helping repair existing wrinkles. For an added anti-aging boost, incorporate the Midnight Recovery Concentrate into nighttime product regimen to make the most of your skin's nighttime repair functions, as well as hydrate dry texture and plump visible fine lines.
MEN
As men have coarser skin than women, their anti-aging needs are a bit different. While less prone to fine lines, they are more likely to develop deep wrinkles in more expressive areas like the brow and mouth. They also have a rougher texture that will need specialized exfoliation to truly refine skin's surface.
Your Cream: Age Defender Moisturizer
Made specifically for those men with anti-aging concerns. Our Age Defender Moisturizer is a firming, lifting, and anti-wrinkle treatment that strengthens skin while helping to improve skin texture and strength. Its star ingredients include Linseed Extract to visibly reduce wrinkles and boost elasticity, while Capryloyl Salicylic Acid exfoliates and helps smooth skin imperfections.
No matter which products you use, your goals are hydrating, treating fine lines, and increasing cell turnover wherever possible. Remember: Your complexion needs different types of care at every age, so make sure you are using an anti-wrinkle cream made to help your skin look its best, no matter what decade you're in.